Ardex SE Coloured Silicone 310ml
Ardex SE Coloured Silicone 310 ml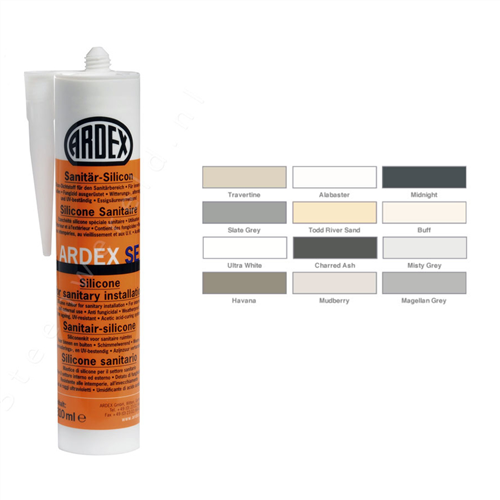 Flexible Acetic Cure Silicone Sealant
ARDEX SE
Flexible sealant for tile movement & connecting joints
Withstands 25% total movement of joint width
Contains fungicides to combat mould growth
ARDEX SE is an acetoxy curing silicone for applications such as movement joints (between tiles), internal corners (tiled wall and floor) and connecting joints between tiled surface and benchtops, bath edges, cupboards, splashbacks.
Flexible sealant (up to 25% movement)
Waterproof – suitable for use in showers
UV resistant – suitable for internal and external use
Contains mould inhibitors
Easy to use and smooth off
Suitability:
Ceramic tiles
Glass
Enamel
Anodized aluminium
Granite
Porcelain
Laminated beach tops
Sanitary acrylics
Not recommended for other natural stones, e.g. marble, travertine and limestones.
Location:
Use ARDEX ST as bond breaker when using with ARDEX waterproof membranes (Not suitable for continuous immersion use e.g. swimming pools).
Joints:
Max width 30mm, depth 15mm
Coverage:
Approximately 12 lineal metres per cartridge with a 5 x 5mm joint size
Pack Size: