ADOS 121 Repair Anything Epoxy with Glass Fibres 500ml
CRC 121 Repair Anything Epoxy with Glass Fibres 500ml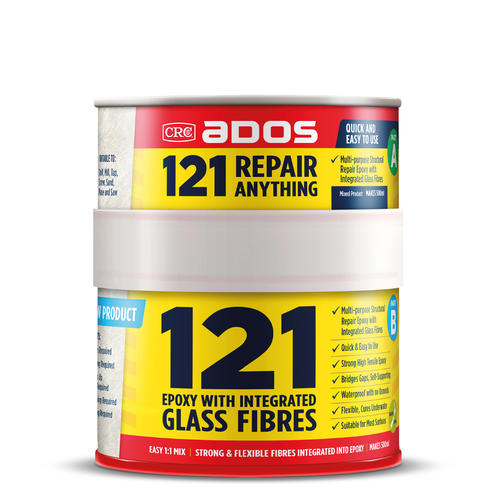 ADOS 121 Repair Anything
The revolutionary new way to make repairs. ADOS 121 is an epoxy polymer with glass fibres already integrated into the hardener – making use so easy. All the advantages of traditional fibre glassing with none of the disadvantages. Easy 1:1 mixing, strong and flexible, bridges gaps, waterproof and can even be applied in the wet to almost any surface including polystyrene. ADOS 121 is the revolutionary new way to make repairs to anything.
The 1:1 mix ratio of resin and hardener and integrated glass fibres eliminates the use of fibreglass cloth, scissors, brush, roller and clean up solvent, and makes fibreglass repairs quicker and easier than ever. ADOS 121 is strong, with high tensile strength, but is also flexible. It bridges gaps and is self-supporting, so that it can be formed into almost any shape desired.

ADOS 121 is waterproof – with no osmosis, non-flammable, low odour, no solvent, safe on almost any substrate including polystyrene and most plastics, produces significantly less waste compared to traditional fibre glassing methods.
Features and Benefits:
Quick and Easy to use
1:1 Mix Ratio
Multi-purpose Structural Repair
Epoxy with Integrated Glass Fibres
Strong High Tensile Epoxy
Bridges Gaps, Self-Supporting
Waterproof with no Osmosis
Flexible, Cures Underwater
Suitable for Most Surfaces
Suitable to drill, mill, tap, screw, sand, plane and saw
No Cloth Required
No Rolling Required
No Clean Up Solvent Required
No Brushing Required
No Masking Required
ADOS 121 fills cracks and holes, bridges gaps, joins, constructs shapes, bonds an replaces traditional fibreglassing methods on:
Fibreglass
Metal
Wood
Most Plastics
Glass
Iron
Aluminium
Tile
Stone
Roofing
Join dissimilar objects (e.g. plastic pipe to metal pipe)
Almost any substrate
ADOS 121 can be applied in wet conditions or under water. To avoid yellowing, the repair can be painted with any repair system.
Physical Properties
| | |
| --- | --- |
| Type | Epoxy composite |
| Composition | Fibre-reinforced 2 pot epoxy |
| Colour | Opaque white |
| Temperature Range | Up to 70°C. Post curing at 100°C for 2 hours will increase temperature resistance to 120°C |
| Working Time | 30 minutes |
Type - Epoxy composite
Composition - Fibre-reinforced 2 pot epoxy
Colour -Opaque white
Temperature Range - Up to 70 ºC. Post curing at 100 ºC for 2 hours will increase temperature resistance 120 ºC
Working Time - 30 minutes
SAFETY DATA SHEETS
121 Fibreglass Epoxy Repair System Part A
121 Fibreglass Epoxy Repair System Part B
TECHNICAL DATA SHEETS