Ardex Superflex WPM 001 20kg Pail
Ardex Superflex WPM 001 20kg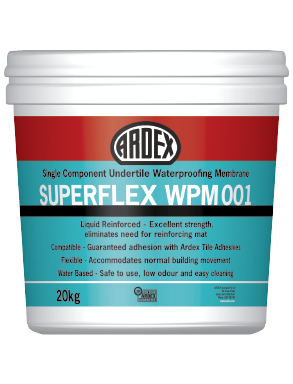 Ardex Superflex WPM 001 20kg
The one-part arcylic waterproofing membrane called Ardex Superflex WPM 001 is specially designed for undertile use. With fast drying technology and synthetic microfibres to increase its strength.
Single-Component Undertile Liquid Waterproofing Membrane
Fast drying can be tiled over in 48 hours in non-critical areas
Excellent strength, eliminates requirement for reinforcing mat
AS4858:2004 compliant (Class III Membrane)
BRANZ Appraised (No. 472 and No. 473)
Internal and external requirements
Meets Green Building Council of Australia Green Star IEQ-13 requirements (Low VOC content)
Fast-drying acrylic membrane
Ardex Superflex WPM 001
One-Part Undertile Waterproofing Membrane 20kg.
Form and Colour: Blue viscous paste
Type: Single part
Specific Gravity: Approx. 1.34 kg/litre
pH of Liquid: 8.5
Viscosity of Liquid (RVT Brookfield, spindle 7 speed 10): 52,000cps
Non-Volatile Matter (volume) AS1321.10: 50.3%±1
Tensile Strength 7 days dry AS1145: 1.04 MPa
Full Cure: 1.92 MPa
Elongation at Break 7 days dry AS1145: 780%