Ardex X 77 Premium Flexible Tile Adhesive 15 kg
Ardex X 77 Premium Flexible Tile Adhesive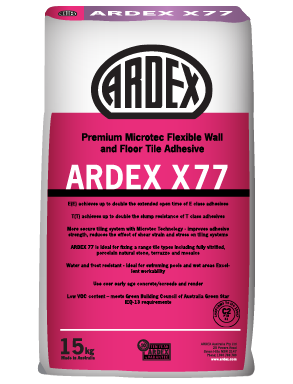 Premium Microtec Tile Adhesive
ARDEX X 77
Reduced effect of shear strain and stress on tiling systems
Microtec Technology improves adhesive strength
Water & frost resistant

ARDEX X 77 is a high performance, fibre reinforced, polymer modified wall and floor tile adhesive. It has been specially formulated with Microtec Technology which greatly improves the adhesion strength, plus increases the ability of the mortar to be more capable of withstanding stress and shear strain, meaning increased security in the tiling system. When mixed with water, an extremely smooth, creamy mortar is produced with superior slump resistance and double extended open time.

ARDEX X 77 is especially suited to high-performance situations with heavy pedestrian traffic e.g. shopping centres. ARDEX X 77 accommodates shrinkage movement associated with early age concrete and screeds. It can be used over concrete that is at least 7 days old and screeds and renders after 16 hours. ARDEX X 77 is efflorescence free due to the addition of special additives.
Suitable Tiles:
Ceramic
Fully vitrified
Concrete
Terrazzo
Porcelain
Fully vitrified
Glass
Natural Stone
Porcelain mosaics
Use on:
Internal / External
Immersion applications
Wall 9m² per 15kg)
Floors 6m² per 15kg)
Concrete, renders, screeds, aerated concrete
Autoclaved Aerated Concrete (AAC)
Exisiting ceramic tiles
Fibre-cement sheet
Plasterboard
Screeds
Colours:
Off White
E(E) achieves up to double the extended open time of E class adhesives
Improves adhesion strength
Slump free resistance
Double extended open time
T(T) achieves up to double the slump resistance of T class adhesives
Water and frost resistant ideal for swimming pools and wet areas
Excellent workability
Use over early age concrete/screeds and render
Low VOC content meets Green Building Council of Australia
Green Star IEQ-13 requirements
Location:
Internal
External
Immersion applications
Coverage:
Walls: 9m2

per 15kg
Floors: 6m2

per 15kg
Colours:
Substrates:
Concrete, renders, screeds
ARDEX liquid applied undertile waterproofing membranes
Fibre-cement sheet, plasterboard
Existing ceramic tiles
Autoclaved Aerated Concrete (AAC)
Screeds
ARDEX DS 40
Packaging: