Wolff Junio-Stripper 18V KIT
Wolff Junio-Stripper 18V KIT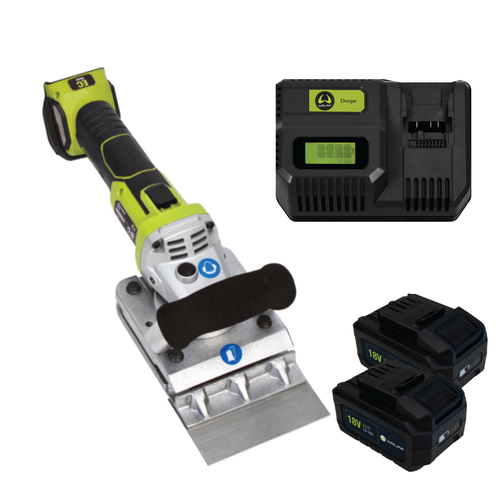 | | |
| --- | --- |
| Voltage | 230 V |
| Working width | 120 / 200 mm |
| Frequency | 50-60 Hz |
| Power | 1010 W |
| Noise pressure level | 108 dB(A) |
| Noise power level | 121 dB(A) |
| Hand/arm vibration | 12.5 m/s² |
| Total weight | 3.1 kg |
Wolff JUNIO-STRIPPER
The Junio Stripper is a cordless handheld uplifter ideal for removing small areas of carpeting or adhesive residues.
Great for hard to reach areas like window sills, under radiators and on stairs, near stairs, along walls, under radiators or in closets.
Kit includes: 1x Stripper skin, 2x 18V Batteriers, 1x Battery Charger. All of which in a Wolff carry case.
| | |
| --- | --- |
| Voltage | 18 V |
| Working width | 100/200 mm |
| Battery | 5.0 Ah |
| RPM | 8500 rpm |
| Noise pressure level | 82.8 dB(A) |
| Noise power level | 93.8 dB(A) |
| Hand/arm vibration | 12.5 m/s² |
| Total weight | 2.9 kg |