Ardex A 45 Rapid Hardening and Drying Internal Repair Mortar 20 kg
Ardex A45 Rapid Hardening and Drying Internal Repair Mortar 20 kg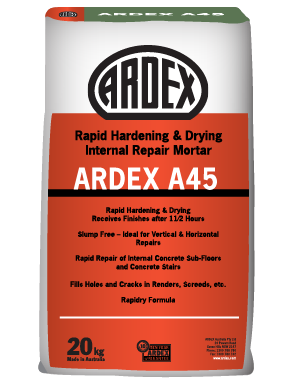 Slump Free – ideal for Vertical & Horizontal Repairs
Rapid Repair of Internal Concrete Sub-Floors & Stairs
Fills Holes and Cracks in Renders, Screeds, etc.
Rapid-Drying Repair Mortar
ARDEX A 45
INFORMATION
ARDEX A 45 is a rapid drying and rapid hardening slump free repair mortar. With exceptional hardness and shrinkage free finish, ARDEX A 45 is ideal for creating new ramps, forming coves, patch repairs, stairs, around penetrations and filling cracks. The surface can be smoothed when wet trowelled prior to final set suitable for the installation of floor coverings.
Floor Coverings:
Linoleum, vinyl, carpet
Ceramic and quarry tiles
Timber – parquetry and floating
Substrates:
New and existing concrete
Concrete masonry or cement render
Impervious surfaces primed with ARDEX P 82
TECHNICAL DATA
Location:
Internal above or below grade applications
Thickness:
2-30mm in one application – Bulkfill to 40mm
Coverage:
Drying & Curing:
Sets in approximately 15 minutes
Ready for floor coverings after approximately 90 minutes
Packaging:
DOWNLOADS