Bona Floor Polish Gloss 1 Litre
Bona Floor Polish Gloss 1 Litre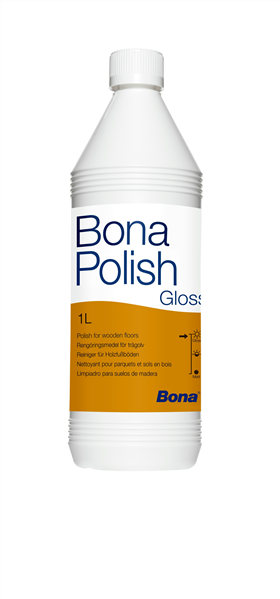 Bona®
Hardwood Floor Polish

Bona® Hardwood Floor Polish offers a protective formula that renews floors by filling in micro-scratches and scuffs, shielding against future wear and traffic, and adding a durable finish. For extra protection, the antimicrobial additive works to inhibit the growth of bacteria, mold and mildew while the coating is on the floor. Use every 2-4 months to keep floors revitalized and looking their best.

Tips & Tricks

When it comes to polishing hardwood floors, it's best to approach the job with a gentle hand. There's no need to aggressively work the polish into your floors. Let the polish do all the work when applying.

Get your floor ready. Remove furniture, dry mop and clean
Measure your room and know your square footage.
Do not shake the bottle of polish—gently rock it back and forth for 30 seconds to 1 minute to assure a consistent sheen level.
Spread an even and consistent layer of polish across the floor.
Let the applicator pad do the work—just guide the puddle of polish back and forth with the wood grain... only fingertip pressure on your mop.
Work in small sections on the floor, making sure you don't trap yourself in a corner!
Only Polish floors every 2-4 months, or longer depending on the traffic in your home.
Bona Floor Polish Gloss 1 Litre. Technical data include:
Binding agent: Acrylate/polyurethane
Gloss: High gloss and Matt
Dilution: Do not dilute
Drying time:

Touch dry: 30-60 minutes
Recoat: minimum 2 hours

Application tools: Bona Applicator Pad
Coverage: Approx. 50 m2/litre
Safety: The product is not classified as dangerous according to European Directive 1999/45/EC and its amendments
Cleaning: Clean tools with water directly after use. Dried material can be removed with acetone
Shelf life: 2 years from date of production in unopened original container
Storage/transport: The temperature must not fall below +5°C or exceed +25°C during storage and transport
Disposal: Wastes and emptied containers should be handled in accordance with local regulations
Sizes: 1 litre