Bona Wood Floor Refresher 1 litre
Bona Wood Floors Refresher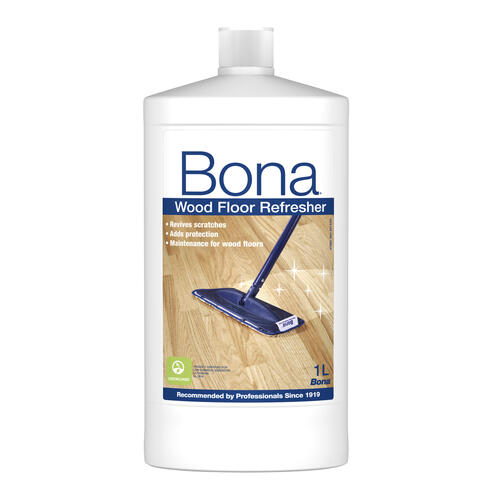 Bona Wood Floors Refresher
This ready to use Bona refresher is the perfect protection for your vanished wooden floors. This product revives scratched and dull surfaces and offers protection against the wear on the floors.
Your wooden floors will have a new life with this refresher and will increase the sheen and make your old floors like new again.
Wood Floors Refresher Key Benefits
Specifically designed for finished wooden floors
Based on polyurethane = superb protective qualities
Contains no waxes
Quick Drying
High Friction - excellent remedy for slippery floors
Easy and safe to use
Important! Always test floors for adhesion and desired results prior to use. Do not use on waxed or oiled floors. Ensure normal room climate 18-25°C.
Bona Wood Floors Refresher Technical Data:
Binding agent: Polyurethane
Gloss: High gloss
Dilution: Do not dilute
Drying time: - Touch dry: 30-60 minutes - Recoatable: minimum 2 hours
Application tools: Bona Applicator Pad
Coverage: Approx. 50 m2 /litre
Sizes: 1 litre
Certification: Greenguard

Bona Wood Floors Refresher Maintenance:

Clean floor with Bona Wood Floor Cleaner and a Bona Cleaning Pad. When the floor is starting to show signs of wear and needs freshing up, clean and apply a new layer of Bona Wood Floor Refresher. For removal of refresher build up use Bona Polish Remover.