Ardex X 18 Wall & Floor Tile Adhesive - 20kg
Ardex X 18 Wall & Floor Tile Adhesive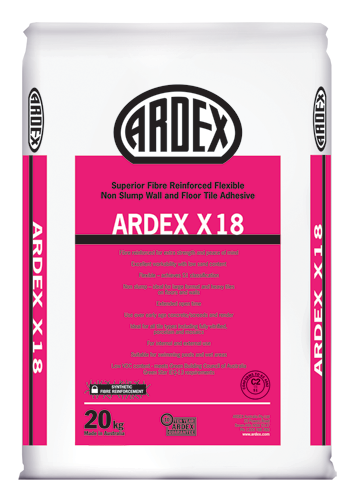 Ardex X 18 Wall & Floor Tile Adhesive
Ardex X 18 is a fibre reinforced flexible non-slump wall and floor tile adhesive
The Ardex X 18 Tile adhesive is a polymer fortified cement-based wall and floor tile adhesvie that is formulated with a mastic type property.the X 18 contains fibres that are developed to add strength to the tiled area. Perfect for your swimming pool, internal and external.
Suitble Tiles:
Glass
Fully vitrified
Ceramic tiles
Concrete stone tiles (eg: terrazzo)
Natural Stone (excluding moisture sensitive)
Porcelain Mosaics
Use on:
Internal / External
Wall 11m2 per 20kg
Floors 7m2 per 20kg
Concrete, renders, screeds
Plasterboard on walls
Fibre-cement sheet
Existing ceramin tiles (where glaze is removed)
Ceramic Tile Underlay (CTU) ove timber
Internal & external swimming pools
Colours:
Solvent Free
Low VOC content
Non-slump
Extended open time
Non-Slump
Flexible
Suitble for swimming pools and wet areas
Mix easy with water (achieve mortar)
ideal for large format and heavy tiles on floors and walls
Low sand content
Excellent workability
Fibre reinforced
Extra strength
Use on new concrete/screeds and renders
*Stock can be ordered as required.
Ardex X 18 Wall & Floor Tile Adhesive
Size: 20kg
12 months self life

Store in 23oC dry place
Tools:
11m2 walls use a 6x6x 6mm notched trowel
7m2 floors use a 10x10x 10mm notched trowel