Sikafloor®-14 Prep 'N' Prime 10L
Sikafloor®-14 Prep 'N' Prime 10L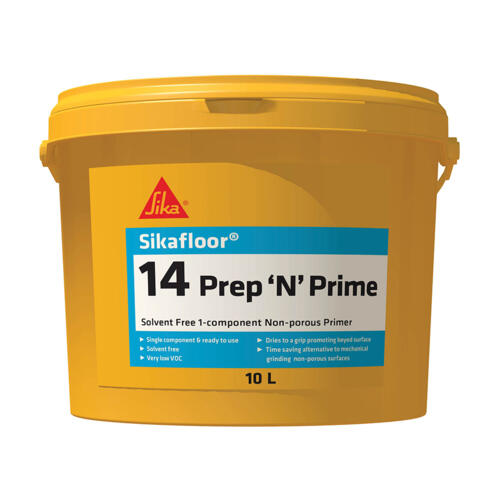 Sikafloor®-14 Prep 'N' Prime 10L
SOLVENT FREE, 1-COMPONENT NON-POROUS PRIMER
Sikafloor®-14 Prep 'N' Prime is a special primer with advanced adhesion properties for sound, smooth and non-absorbent substrates.
Single component - ready to use
Solvent free
Very Low VOC
Internal & external suitable
Fast drying 50min+ @ 23°C
Non DG storage
Easy application with brush or roller
Non-porous Primer applied prior to Sikafloor® Levelling/Smoothing Compounds
Able to be applied over Sikafloor® Epoxy Coatings
Dries to a grip promoting keyed surface
Time saving alternative to mechanical grinding Non-porous surfaces
USES
Sikafloor®-14 Prep 'N' Prime is applied in combination with suitable materials from Sikafloor®, SikaBond®, Sikadur® & SikaTite® ranges. Suitable for priming over the following fully bonded & thoroughly cleaned surfaces: Ceramic & porcelain tiles, Terrazzo, Non-porous coatings, Sikafloor®-158 W Fast Barrier (Moisture Barrier), Vinyl flooring, SikaTite® acrylic membranes.
TDS: https://nzl.sika.com/dms/getdocument.get/ffec57ab-5335-4cbf-b2e9-2ae58424e732/sikafloor-14-prepnprime.pdf
SDS: https://nzl.sika.com/dms/getdocument.get/d83a6a5a-92fc-4cbb-93c1-df8258fe65af/Sikafloor%C2%AE-14%20Prep%20'N'%20Prime%20-%20SDS.pdf
APPLICATION INFORMATION
Consumption~ 8m2 per litre. Average is determined by texture of the substrate and applicator device.
Ambient Air TemperatureBetween +5 °C to 35 °C
Substrates: Tiles, Terrazzo,Non-porous coatings, Acrylic membranes. Note: Conduct a bond test prior to priming application to verify suitability.
Waiting Time / Overcoating: Note: Before applying subsequent flooring products Sikafloor®-14 Prep 'N' Prime must be completely dry (50min+ @ 23°C). Do not install products over wet or pooling Sikafloor®-14 Prep 'N' Prime. Instead, brush the pooling product out and wait till dry. Values are approximate and subject to variation due to climatic conditions.