Sika® Level-315 F 20kg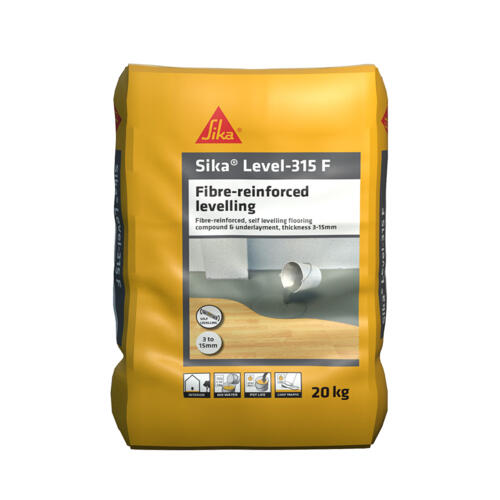 Sika® Level-315 F 20kg
FIBER-REINFORCED, SELF-LEVELING FLOORING COMPOUND
Sika® Level-315 F is a pumpable, fiber-reinforced leveling compound for use on dimensionally stable wood and cement/calcium sulfate-bound substrates in preparation for subsequent indoor coverings.
Pumpable
Self-leveling
Fibre-reinforced
Walkable after 3 hours (at +20°C)? Quick drying
Fast-loading (usually after 24 hours)
Suitable for chair rolls
Can be used on floors with underfloor heating
Up to 15 mm layer thickness without reinforcement
ENVIRONMENTAL INFORMATION EC1 Plus R
Universally applicable flooring compound for leveling and smoothing of screeds, wooden flooring and concrete floors in layer thicknesses of 3 to 15 mm in one operation
Used as a leveling layer under ceramic flooring, natural stone as well as textile, PVC, parquet and wood or linoleum
TDS: https://nzl.sika.com/content/dam/dms/nz01/l/sika_level-315_f.pdf
SDS: https://nzl.sika.com/content/dam/dms/nz01/8/sds-sikalevel-315f-241113-nz.pdf
APPLICATION INFORMATION
Mixing Ratio5.0 - 5.2 litres of cool, clean water per 20 kg bag.
Consumption~ 1.6 kg mortar powder/m²/mm layer thickness
Layer Thickness
Minimum 3 mm / maximum 15 mm
20 kg bag: 15mm min. / 30mm max., with approx. 30% by weight addition of 0.7 to 1.2 or 1.0 - 2.0mm of quartz sand per bag. (i.e. 6 kg per 20 kg bag.)
Waiting Time / Overcoating
At +23°C and 50 % r.h.
Walkable after~ 3 hours (without load)
Ready for covering with tiles~ 4 - 6 hours
Ready for covering with parquet with 3 mm thickness ~ 24 hours
Prior to application of Sika® Level-315 F, ensure that the maximum moisture content for the subsequent coating is achieved. (See the corresponding standards and information sheet of the subsequent coatings or adhesives).