SIKA Screed-1 NZ 25kg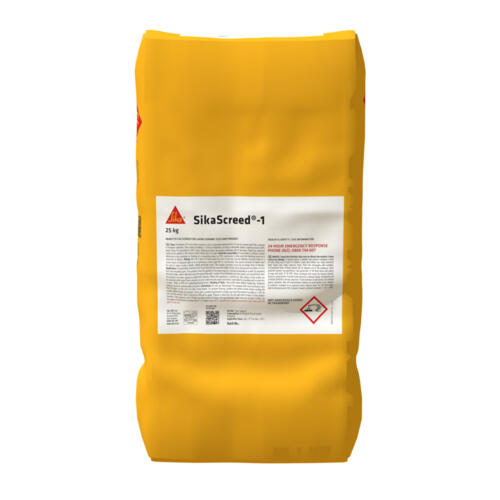 SIKA Screed-1 NZ 25kg
READY TO USE SCREED FOR LAYING CERAMIC TILES AND PARQUET
SikaScreed®-1 is a pre-mixed product for quick drying shrinkage-free indoor and outdoor screeds.
CHARACTERISTICS / ADVANTAGES
Ready-to-use, ideal in uncomfortable workshops, i.e. historical city centers, where sand supplying can be a problem.
No shrinkage.
Very good finishing.
Quick hardening.
USES
Formation of unbonded 30 mm to 60 mm thick screeds in civil or industrial environments.
Formation of bonded 12 mm to 60 mm thick screeds.
Can be covered with tiles, parquet or resilient materials.
Heating screeds, by burying radiating coils in the layer. Plasticizer additives do not need to be added to the mixture when SikaScreed®-1 is used.
Suitable for industrial environments, offices, commercial centres, etc.
TDS: https://nzl.sika.com/content/dam/dms/nz01/c/sikascreed_-1.pdf
SDS: https://nzl.sika.com/dms/getdocument.get/ea6d4cca-aea4-3383-bc1e-8b8fda4d9f39/sds_sika_screed_1_0313_nz.pdf
TECHNICAL INFORMATION
Compressive Strength After 7 days: >13 MPa - after 28 days: >25 MPa according to EN 13892-2
Flexural Strength After 28 days: ≥ 5 MPa according to EN 13892-2
APPLICATION INFORMATION
Mixing Ratio1.8 - 2.0 L of clean water for each 25 kg bag
Consumption16 - 18 kg/m2 per cm of screed thickness
Layer ThicknessUnbonded 30 to 60 mm thickness. Bonded 12mm to 60mm thickness.
Ambient Air Temperaturemin. +5°C - max. +35°C
Substrate Temperaturemin. +5°C - max. +35°C
Pot Life~ 45 min*
Waiting Time / Overcoating
Walkable:~ 12 hours *
Laying of ceramic tiles:~ 24 hours *
Laying of natural stone or marble:~ 72 hours **
Laying of parquet:~ 7 days***
* Times have been measured in ambient temperature +23°C and R.H. 50%. Higher temperatures reduce those times; oppositely, lower temperatures increase them.
** For stones and marbles sensitive to humidity the time must be extended to 7 days.
*** Times have been measured in ambient temperature +23°C and R.H 50%, screed thickness ≤ 5 cm and ventilation ≥ 2 m/sec