Husqvarna Hiperfloor 20 litre
Husqvarna Hiperfloor (Durable concrete polishing) 20 Litre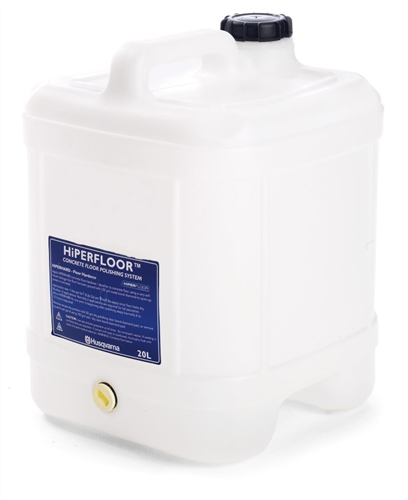 Husqvarna Hiperhard™
Hiperhard™ is a specially lithium densifier silicate™ contains potassium silicate. It is optimal for porous floors thanks to its ability to better and faster fill out larger voids and pores. This also makes it optimal for the first application on any new project, where surface is still a bit rough and absorption therefore is high.
This densifiers penetrates into the concrete surface and blocks the pores or capillaries by formation of calcium silicate hydrate. This calcium silicate hydrate binds within the concrete matrix and hardens the concrete surface resulting in hard, dense, dust free and traffic resistant surface finish. Smooth or gloss finishes can be easily achieved by surface polishing. Due to the high activity of lithium silicates, the densifier accelerates the concrete polishing process, thus saving time and costs. Unlike traditional sodium silicates, this lithium densifier will not leave residues such as white effloresce or other unwanted residue discolorations on the treated surface.
Intensifies the hardness of concrete and improves the concrete's abrasion resistance
It responds to the calcium hydroxide (Free Lime) found in concrete to form Calcium Silicate a crystalline structure
Calcium Silicate forms in the pores of concrete, creating a harder surface
Calcium Silicate and polishing with a resin bonded diamond creates a harder floor, an increased abrasion resistance and it significantly influences the appearance of the final floor
Husqvarna Hiperfloor (Durable concrete polishing).
Cleaning: Application equipment can be cleaned with water if still wet with product
Shelf life in original, closed tightly in the container is 3 years from date of manufacture. Do not allow the accumulation of water, dirt, or other contaminates.
Should be stored at room temperature. Do not allow to freeze
Approximate Coverage: 5 gallons of HiperLith will cover approximately 1,500 to 2,000 square feet, depending on the porosity of the concrete
Density: 1.03-1.05g/ml
Appearance: Colourless clear liquid
Solids Content: <20% by weight
pH value: 10-11
Soluble in water