S Row Cup Grinding Wheel 180mm
Tusk S Row Cup Grinding Wheel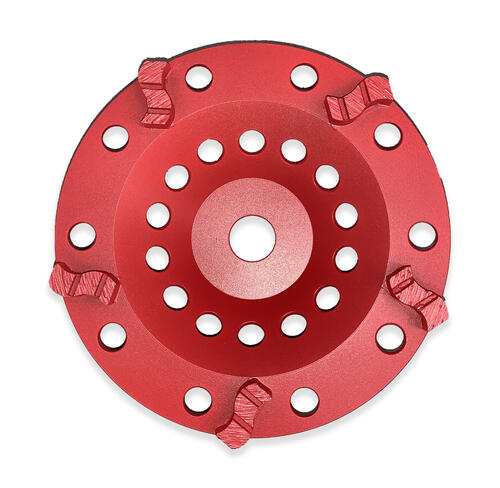 Tusk S Row Cup Grinding Wheel
Diamond Grit Grinding Wheel For Aggressive Stock Removal On Multiple Surfaces.
The Tusk S Row cup grinding wheel is an ideal all-purpose grinding wheel that can be used for most floor preparation task alongside general concrete grinding.
The S Row segments are designed for maximum stock removal while the diamond grit gives it an aggressive bite and allows the grinding wheel to work on a wide variety of surfaces.
Ideal for tilers and flooring workers that require an all-purpose grinding wheel to prepare flooring surfaces before work.
The Tusk S Row Grinding Wheel Can Be Used On:
General Concrete
Fibreboard
Terracotta
Concrete
Granite
Stone
Grout
Brick
RECOMMENDED TOOLS
Angle Grinder
Tusk S Row Cup Grinding Wheel GSC 105 mm,125mm,180mm.
Can Be Used On:
General Concrete
Fibreboard
Terracotta
Concrete
Granite
Stone
Grout
Brick
Tusk S Row Cup Grinding Wheel GSC

Sku

Brand

Width

Segments

Product Number

84310

Tusk

180mm

5

GSC180 5T

86289

Tusk

125mm

5

GSC125 5T

84304

Tusk

105mm

5

GSC105 5T
RECOMMENDED TOOLS
Angle Grinder