Bona R540 Moisture Barrier 6kg
Bona R540 Moisture Barrier 6kg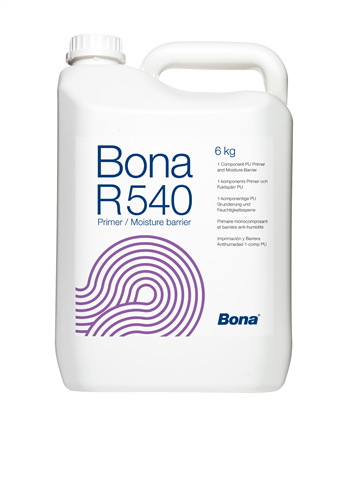 Bona R540 Moisture Barrier 6kg. Key benefits include:
1-Component
Easy to apply
Good adhesion to all kinds of sub floors
Silane modified reactive primer
Use on adsorbent and non absorbent sub floors before using the Bona adhesives
Use with Bona R850T + R848T
Apply with the Roller sleeves or Brush
Bona R540 Moisture Barrier 6kg. Technical data include:
Product base: Polyisocyanat-Prepolmer
Colour: Transparent Brown
Viscosity: Thin Liquid
Density: 1,14 g/cm³
Coverage: Approx 100-150g/m

2

( primer ) Approx 250-350g

/m

2

(damp

proofing up to 4 CM% , Max 70%RH)

Cleaning agents: S100, acetone, ethanol, alcohol. Only after hardening this can be removed mechanical.
Storage / transport: The temperature must not fall below +5°C or exceed +25°C during storage and transport
Store in a dry, well ventilated place
Shelf life: 6 months.